Tiffany Grant (Voice Actor)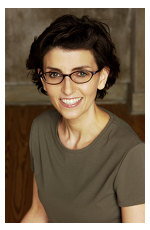 Tiffany Grant is thrilled to return to Eau Claire for the first NERD & TIE EXPO!  Best known as Asuka in NEON GENESIS EVANGELION, Tiffany was the first anime voice actor hired in Texas [Feb. 1994].
She's voiced characters in 1600+ TV episodes, OVAs & movies including AZUMANGA DAIOH (Kaorin), CHRONO CRUSADE (Satella), BLUE SEED (Kome), GOLDEN BOY (Madame President), FMP? FUMOFFU (Bonta-kun), GODANNAR (Shizuru), FULL METAL ALCHEMIST (Marta), MABURAHO (Kuriko), ONE PIECE (Nojiko), THE WALLFLOWER (Auntie), TEARS TO TIARA (Morgan) and INFINITE STRATOS (Laura).  Video game credits: UNLIMITED SAGA, DEUS EX II: INVISIBLE WAR.  Recent projects include EVANGELION 3.33, DENNOH COIL (Daichi & Densuke) and Toonami's AKAME GA KILL.
Ms. Grant has adapted English dubbing scripts for TV series such as HELLO KITTY'S ANIMATION THEATER, MABURAHO, AH! MY GODDESS 2, THE WALLFLOWER, INFINITE STRATOS, TEARS TO TIARA and Toonami's PARASYTE-THE-MAXIM, as well as scripts for several subtitled projects including MIYUKI CHAN IN WONDERLAND and the live-action TOKYO – THE LAST MEGALOPOLIS.
Additionally, Tiffany contributed to the albums "Voices for Peace" and "Voices for Tolerance" www.voicesfor.org.  Profits benefit charities like Doctors Without Borders. CDs and downloads: www.cdbaby.com & iTunes.
Non-anime work includes ARLINGTON ROAD (w/Jeff Bridges) and indie films LAUGHING BOY, DEAD OF KNIGHT & LARS THE EMO KID.  Tiffany has years of experience in theatre and commercials and an incurable Hello Kitty addiction!  For more, visit TiffanyGrant.net
---
Lewis "Linkara" Lovhaug (AT4W)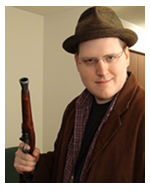 Lewis "Linkara" Lovhaug reviews comic books on the internet and that seems to make people happy.
Aside from writing, directing, editing, and pulling his own hair out on a webseries called "Atop the Fourth Wall" where he's reviewed awful comic books every week for the last eight years, Lewis also has put together a massive retrospective of every season of Power Rangers. Every October, he goes one further in his insanity and produces a DAILY scripted series called "Longbox of the Damned" where he dresses up like a ghoul and promotes horror comics.
You can of course find all of his videos on his site, www.atopthefourthwall.com.
---
Helena Steele (Cosplayer)
Helena Steele is a nationally published model and actress.
She began cosplaying in the Fall of 2014, and won Best Female and Best Women's Costume at her first convention (Springcon) in 2015. Her cosplays have been featured in City Pages, Geek Girls, Dorkly, and numerous other websites. Her greatest cosplay achievements yet have been her volunteerism with The Royal Sisterhood and TC Heroes of Hope.
She currently resides in Saint Paul, Minnesota.
---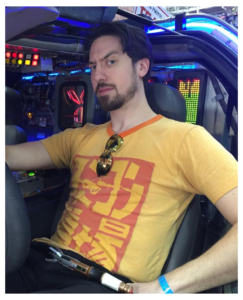 Sean's exposure to the intense radiation of a cathode-ray tube as a toddler lead to his powers as a video gamer. Interfacing with the mystical tube through joysticks, keyboards, and later game pads, Sean soon discovered that his newfound powers could shape the reality of entire universes, living lives as heroes (sometimes multiple times) in order to save the day of an underprivileged dial tap populace. But how could the knowledge of these alternate, bombastic events affect our own universe and timeline?
In 2006, Sean joined forces with Kevin Tambornino, retro-gaming import enthusiast (and fairly convincing falsetto) to launch the Famicom Dojo web series. Their mission? To train your game about the history of the video game industry, and how to navigate the skull-splitting reality that gamers face — with humor and bad pun.
Sean also produced and hosted the POWETcast bi-weekly podcast, and wrote scores of news articles for Powet.TV from 2004-2012, contributed entries to the KEEP PLAYING video game review series, and helped to produce several of the channel's seminal successes, such as Totaka's Song.
Since his time at Powet.TV, Sean has been working more closely with 4colorrebelliom.com, and continues to produce videos and the weekly podcast for Famicom Dojo, trying every day to use his powers for good, and not total pwnage.
---
Bards of the Goddesses (Musical Guest)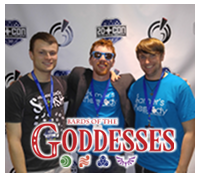 Catch a live performance of music from games such as The Legend of Zelda, Halo, Professor Layton, and more by trio Bards of the Goddesses. The performance will feature Gamer's Rhapsody video music convention planning members Thomas Spargo, Kenny Schuster, and Vaughn Rowles on guitar, piano, violin, accordion, and viola. The bards have more instruments than performers, so you'll notice them constantly switching instruments in between pieces and even in the middle of the songs!